Street Peeper Picks: LISA MAYOCK of VENA CAVA: Sunday, February 8th 2009
Something new we're going to experiment with is asking fashion peoples whose work or personal style we admire to trawl through our endless catalog of street-style photos to pick out the 8-10 images that caught their attention -- then make a brief comment about why they chose that photo.
Our debut/guinea-pig is
LISA MAYOCK
, one-half of the design team at
VENA CAVA
. Born and raised in South Pasadena, California, Lisa moved to NYC in 1999 to attend Parson's School of Design. She started Vena Cava with Sophie Buhai right after graduation, and is currently stocked worldwide at stateside stores like Barneys, Nordstrom, Opening Ceremony, Creatures of Comfort (LA), Hejfina (Chicago), and in Japan at Beams, Seibu, and Tomorrowland. Also, online at
Revolve Clothing
. They're also famous for having cute presentations...
Lisa may also look a bit familiar due to her appearance in New York Magazine's
Lookbook
-- and probably was the only lookbook'ee to not have gotten absolutely thrashed by
Gawker
and her commenters. Yes, she's just that adorable. Anyhow, here are Lisa's picks with her thoughts.
LEFT: I LOVE this look. I think it's my favorite on the site. I really like the idea of wearing all black or grey for winter, but in different textures: velvet, wool, lace, leather... And it looks amazing with her platinum hair.
RIGHT: Are those nylons? I love that she's wearing sheer hose and stud earrings. It makes her 80's jumpsuit look really sophisticated.
LEFT: 70's styled denim always looks right. This is a perfect weekend look.
RIGHT: If I'm ever reincarnated, I would like to come back as this man. He looks really badass -- while wearing a purse! An amazing feat.
LEFT: The bottom half of this outfit is something every girl should sport in 2009. It's so refreshing to see a look now that isn't short, tight, blatantly sexy, or low-cut.
RIGHT: Amazing! I love that this woman exists in the world. The bangs that cover half her face -- right up the edge of her mask -- are such a brilliant touch. (editor's note: it's a dude.)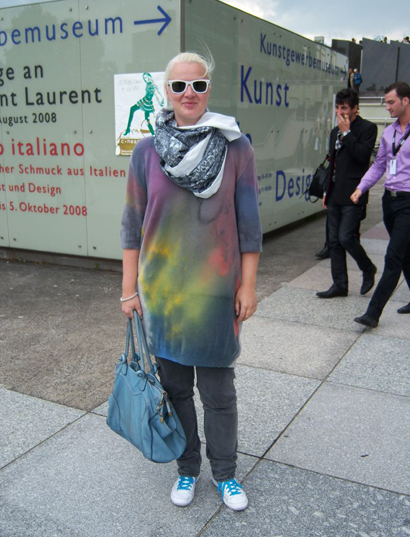 LEFT: Beautiful. Tie-dye combined with faded black jeans makes me incredibly nostalgic for my childhood. The messy, imperfect quality of tie-dye is so refreshing in a "fashion" context.
RIGHT: I'm confused/fascinated by her jacket sweater combo. I really like that the top jacket seems to be wrapping around her back, and then changes its mind and buttons at the bottom around her hips. Very tricky. I like it.
I love everything about this outfit -- the length of the coat, the bulk of it, and the print... The 90's combat boots and nerdy glasses are all so charmingly awkward, but he carries this with aplomb. (editor's note: it's a lady.)
Thanks Lisa!