Street Peeper Picks: SUSIE BUBBLE: Wednesday, February 18th 2009
Susie Bubble is staying at my apartment for NY Fashion Week, and her rent for the week was to make Street Peeper picks and maybe to make me some Chinese food... Still waiting for the Cantonese lobster and snow pea tips in garlic sauce, but at least I got the picks!
So a bit about Susie before we begin. Susie Bubble began fashion blogging around March 2006 on the side of her job as a digital media planner. She blogs her thoughts, observations, experimentations, and experienced in fashion. Last year, she lucked out and became one of the first fashion bloggers to be plucked to work full-time for a magazine -- as commissioning editor of Dazed Digital (the website for Dazed & Confused UK).
LEFT: I've been loving the idea of bloomers ever since Helena Bonham Carter said she was going to launch her own line of them -- and the denim almost erases the hideous connotations associated with bloomers...
RIGHT: It's rare to see Camille Bidault Waddington street-snapped, so I treasure this pic. I love the twee'ness of the Balenciaga floral pants.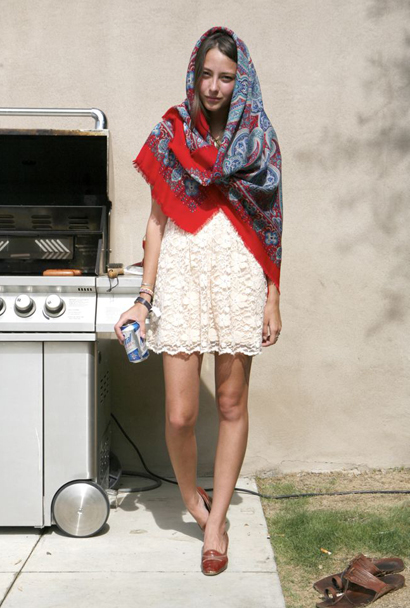 LEFT: I love how this girl is standing next to a barbeque pretending like she's sort of cold by wearing that massive scarf around her head whilst also wearing a pretty lace sundress. L.A., eh?
RIGHT: There's something quite appealing about a quilted bomber jacket even if it is a little stark with the skirt and white-as-you-might trainers. I'm regressing to the 90s where everyone at school was after a bomber jacket.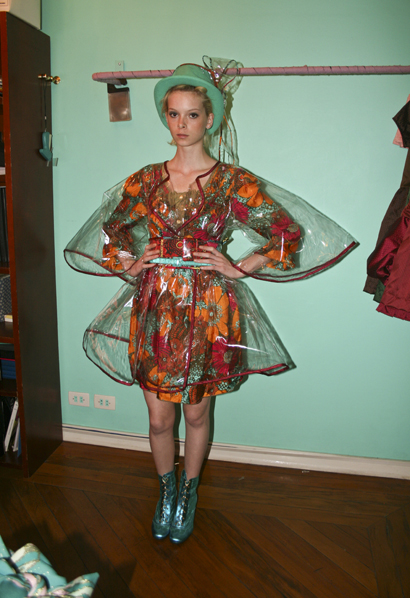 LEFT: Her plastic raincoat is so perfectly formed and makes the old-lady florals pop even more. Then there's the metallic green boots. 'nuff said.
RIGHT: There's a comment on the photo that says "ridic". I think he/she was trying to say "ridiculous" but I'd like to think he/she was trying to say "ridiculously cool". There are smiley-face shoulder pads for God's sake....!
LEFT: Is it a shirt? Is it a dress? Who cares, especially when the Henrik Vibskov check is so wonderful.
RIGHT: I'm just plain jealous that this guy snapped up this vintage shirt especially as the print reminds me a little of the latest collection from Ostwald Helgason.