Street Peeper Picks: Julia Frakes of Paper Magazine: Wednesday, July 1st 2009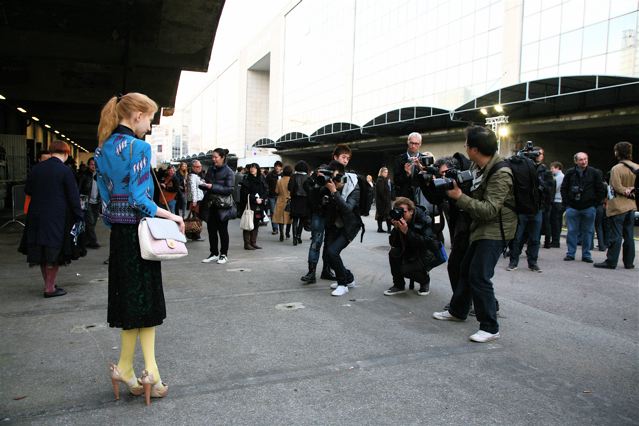 Our next set of Street Peeper picks comes from the lovely Julia Frakes, blogger turned fashion writer for Paper Magazine. Plucked from the Pennsylvanian hinterland by David & Kim who recognized the talent behind fashion blog Bunny Bisous, Julia soon became a favorite of all the street-style photographers at New York and Paris fashion weeks. She's huge in Japan! A devoted vegan and tea-drinker (we shared a pot at a Colette tea party once, though mine was spiked with gin...) and one of the genuinely nicest people I know, Julia was kind enough to share her favorite photos. Thanks Julia!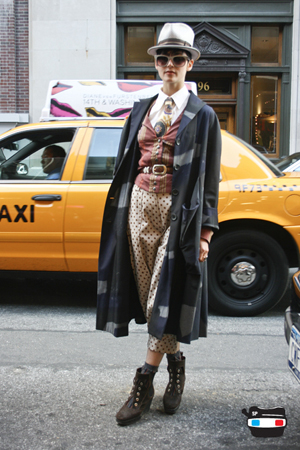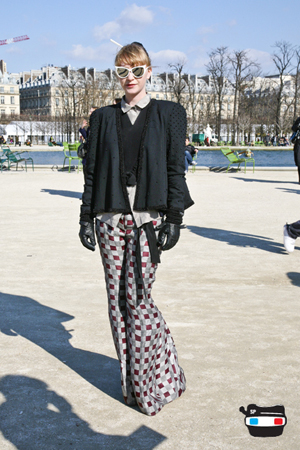 LEFT:
Paisley, polka-dots and plaid? As an earnest Woody Allen fan, it's no wonder that I'm head-over-heels for her zany modern-day take on Annie Hall's signature menswear-tinged aesthetic! This intricately layered, flawlessly accessorized ensemble is at perfect balance: the hard-core matching grommets and metalwork (on dusty rose vest, skinny Western belt, rustic hardy boots) are consummately juxtaposed against the decidedly dainty ankle socks and ladylike pleated pants.
RIGHT:
I'm dazzled by Alfhild's distinct take on such iconic, patently-Prada pants (S/S 2008). With her Peter Pan collar, Peggy Guggenheim glasses, and peek-a-boo belt, she rather magically managed to transform such distinctly off-the-runway Art Nouveau-cum-Biba bell bottoms from an ethereal, instantly recognizable "Fallen Angels" impracticality into a striking base for a warm outfit of the quirkiest proportions. Check mate!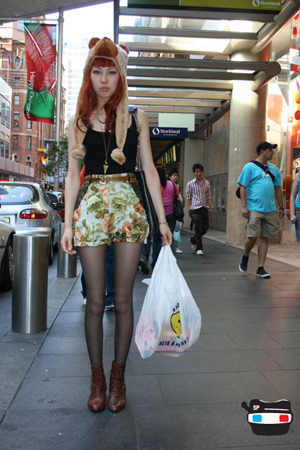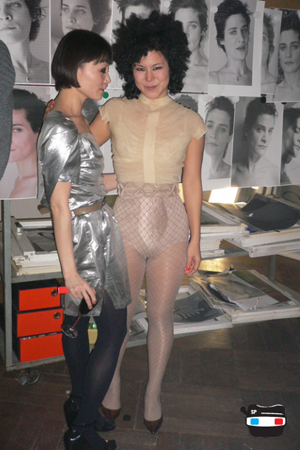 LEFT:
I'm supremely smitten with her endearing sense of wit – olde-worlde Victorian boots, handmade floral shorts, an umbrella necklace, and a timeless Chanel tote – all rather legendarily capped off with a hefty bear hat from Paddy's Markets! Majorly prolific in her fairy-tale irony.
RIGHT:
Yoon's innate sense of transparency and perceptive proficiency of textures is something to be envied. Her command of the subtleties of both coloration and fabrication is sublimely cultivated – the silk Chloé top's girlish frills lend an air of innocence to an otherwise slinky set of separates (daring desert sand fishnets atop charming beige bloomers). Her 'fro and friend are rocking to boot!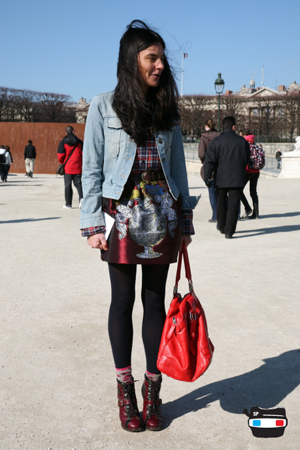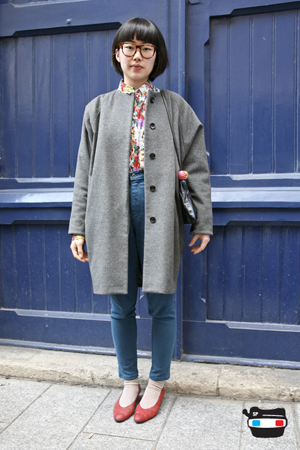 LEFT:
Gloria Baume's composition here is most in keeping with the mode in which I personally dress on a day-to-day basis. I especially admire her fresh, offbeat mingling of textiles – the immaculate melding of a brawny plaid button-down blouse with Miuccia's magnificently regal Miu Miu brocade skirt is further accentuated by twee floral socks, Marc's sought-after carnelian boots, and a scarlet Chloé bag (all of expertly coordinating tones). Indispensable thermal leggings, a quintessential bole belt, and a simple staple denim jacket serve as the perfect foils to an otherwise intricate ensemble.
RIGHT:
Oh golly, Miss Molly! Isn't she utterly delightful from head to toe? Donning mightily versatile togs, she puts her best foot forward in spunky cerise shoes and Isabelline socks. A nonpareil pair of Yale blue high-wasted jeans and a fundamentally unfussy grey single-breasted top coat aptly set off a vibrant blouse abloom with charisma and derring-do. Topped off by enchanting tortoiseshell spectacles and a cutesy purse charm... her magnetism is irresistible!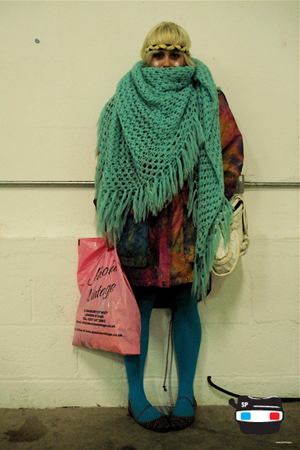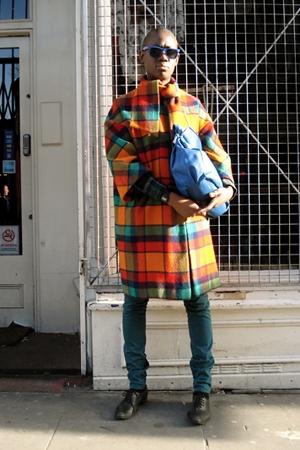 LEFT:
Talk about moxielicious! Layering for the elements has proven to be anything but a personality impediment for this lovably madcap sprite. A cozy cyan Faroese lace shawl swathes a billowing, puffy parka in a Peter Pilotto-esque pattern. Her pixie persona is played up by elfin pointed mary-janes, a braided hairpiece à la Natasha Kahn, and fetchingly flecked cheeks (not entirely unlike Shirley Temple or Joanna Newsom). One can only wonder what treasures lie tucked inside her winsome white Western pouch and shopping bag ostensibly burstling with freshly ferreted-out vintage finds!
RIGHT:
With a perspicacious eye for concomitantly eccentric and posh pieces, Ronx is indubitably the crackerjack color coordinator. The fiercest of felt coats serves as the focal point of her swank regalia boasting hues that harmonize to the hilt. Her shirt and sherbet tartan coat's superficially at-odds plaids in sooth compliment each other inimitably; set off by veritably matching azure sunglasses, sack, and stovepipe jeans... as per usual, Ronx is right on the money.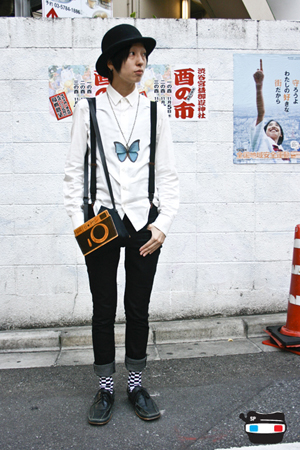 HIM:
Tomo's winning getup relies almost exclusively on the sparkling wit of bit details. An unpretentious yet fastidiously-crafted white Lad Musician shirt is a relaxed relief from his proper suspenders and form-fitting, charmingly cuffed April 77 jeans. My heart set a'flutter upon perceiving his playful collocation of straightforward black and white shades (checkerboard socks, striking CA4LA bowler hat, tidy lace-ups) against a markedly quirky Palos Verdes Blue butterfly necklace and an old school camera bag (in the most literal of terms).
HER:
I don't think it is actually possible not to have a ball whooping it up in this crackerjack ensemble! I'm rather bright-eyed and bushy-bunnytailed for her jaunty Jean-Charles de Castelbajac top flanked by the blithest of smiley face epaulets! Her exuberant more-is-more approach is positively enlivening – spotlighted by necklaces aplenty (an ebullient Trojan Horse to the fore), a fanciful diagonally-striped sequined skirt fit for Studio 54, and crazy-cool contrast-leg B&W tights. Nonetheless the opulent razzamatazz is refreshingly offset by a manifestly easy-breezy Mia Farrow pixie coif, no-frills Repetto Zizi Femme lace-ups, and a carefree attitude (sans makeup). This is one cute lassie with whom anyone would want to hit the town!